0000-00-00
Data Collect
Gegevens verzamelen
Het ATS Inspect systeem wordt aangestuurd door het verzamelen van gegevens in real-time. Snelle, flexibele en betrouwbare invoer maakt operators en inspecteurs productief en open om het systeem te gebruiken. Inspect maakt het allemaal mogelijk met een keuze uit invoer met een toetsenbord, muis of aanraakscherm. Het systeem voorzien in zowel visuele als functionele gegevensinvoer.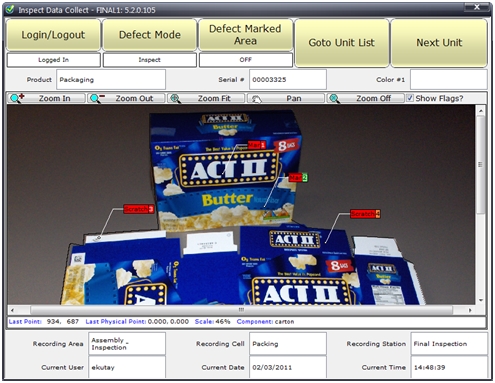 Maak een foto
Digitale foto's en CAD-tekeningen kunnen geïmporteerd worden en opgenomen in de inspectiescherm om de defecten nauwkeurig te lokaliseren. De zoom en scroll functies maken het mogelijk om eenvoudig afbeeldingen te bekijken die groter zijn dan het scherm. Indien gewenst kunt u ook een foto maken van een probleemgebied en deze opslaan met de verstoring in het systeem. Dit geeft u een compleet beeld van wat er gebeurt in de productielijn.
Vermijd dubbel werk
Operators kunnen snel hetzelfde soort verstoring aanmerken op verscheidene plekken van het defecte onderdeel. Dit verhoogt de snelheid bij het identificeren van meervoudige verstoringen, verlaagt de doorvoersnelheid en verplaatst de onderdelen sneller naar de reparatiestations.
Elimineer papieren checklijsten
Data Collect
van ATS Inspect bevat elektronische checklijsten om verstoringen te registreren en om de complete lijst van alle benodigde controles (visueel en inhoudelijk) af te werken. Dit elimineert papieren checklijsten en de daaraan gerelateerde moeilijkheden van bewaren, terugzoeken en gebruik voor latere review en analyse.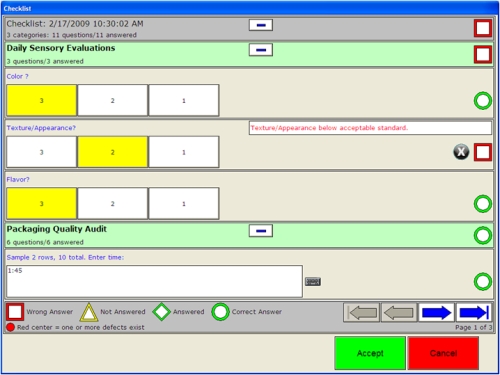 Stap voor stap
Productinspecties kunnen gigantisch variëren in grootte. Een enkel product kan honderden of zelfs duizenden eigenschappen hebben die allemaal gecontroleerd moeten worden.
ATS Inspect is hier voor voorbereid en maakt het mogelijk om inspectiestappen op te zetten die de operator op een gestructureerde en methodische wijze door het inspectieproces leidt. Controlevragen kunnen bij elke stap gesteld worden om zeker te weten dat niets over het hoofd wordt gezien.