2014-07-15
Free Webinar for Foundries - Improved Data Collection and Analysis
Is your foundry looking for improved data collection and analysis for scrap reporting, visual defect and rework analysis, weld mapping, concentration diagrams and other applications?

Most foundries collect data manually related to visual defects, scrap and rework throughout the casting process. Whether your foundry utilizes sand, permanent mold, die cast, investment, lost foam or other similar process, all foundries face the challenge of eliminating the paperwork and labor cost associated with manually collecting and analyzing visual defect, scrap and rework information.
If you are currently using paper and pencil 'tic sheets' to collect data, and then key that data into Excel, MRP or ERP software or some other software that is not well suited to analyze your data, you may want to attend our upcoming free webinar regarding ATS 'Inspect' software.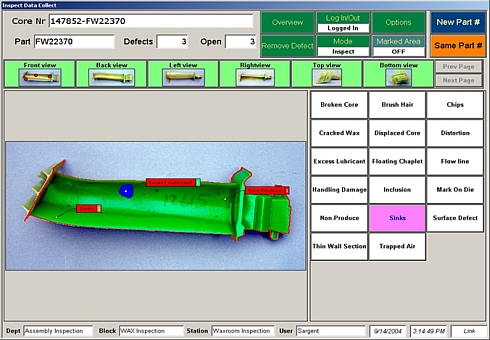 ATS Inspect software is specifically designed for the foundry that needs to decrease scrap and rework by eliminating paper and analyzing data on a real time basis to achieve meaningful defect, scrap and rework cost reductions. ATS Inspect captures both the type and exact location of your defects in order to show you what defects are occurring and where they are occurring so that you can quickly determine the root cause of the issues. Examples of foundry applications and advantages include:
Concentration diagrams of inclusions, flash, short material, cracks and other foundry defects
Mold and core inspections and defect analysis
Wax model and ceramic investment mold inspection and defect analysis
Weld mapping and blending and rework/finishing data collection and analysis
Variable data collection and analysis on wall thickness and other dimensional measurements
Touch screen, graphics based data input
Software can be used at fixed PCs or by roving inspectors using various tablets
Instantaneous alarming to designated supervisory personnel
Drive metrics to Andon boards, projectors and flat screens for immediate feedback to lean work cells
Over 100 web based reports
Analysis by cavity, cast date, mold, and other factors
Dates and Places
Friday, August 1st| Online |
Register
Tuesday, August 5th| Online |
Register
Time and Duration
11:00 - 11:30 (US Eastern)
This webinar takes place online and the duration is approximately 30 minutes, so it won't consume much of your time.
Please register above to attend. You will receive webinar logon details by e-mail shortly before the event.
Interested, but can't attend? Register anyway and we'll send you the recording.