0000-00-00
New Features in ATS Inspect 4.1
Download in PDF format
New Shift Scheduling Setup in Admin.
The process for scheduling shifts for a plant has been greatly enhanced.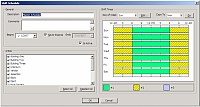 Important: The database structure changes required for the new design of the shift scheduling feature make it impossible to keep the previous shifts already created in previous Inspect versions. Any existing shift schedules will be lost after the upgrade is performed and will need to be re-created. Therefore, you will need to write down your existing shift schedules, or print screen captures from your exiting Inspect version, before installing v4.1.0.
This enhanced feature has a variety of new functionality, including:
A new 'Never Expires' checkbox can now be used to set that a shift schedule should never expire – when used, this option eliminates the possibility of a situation occurring where defects cannot be entered due to an expired shift schedule.
When defining shifts, the administrator can now choose whether to assign the defects for a particular 'shift segment' to the previous, same or next day. This is very useful for night shifts that cross two calendar days within a single shift. A shift that runs from 6:00 pm to 6:00 am, for example, has two shift segments – one segment runs from 6:00 pm to midnight, while the other segment runs from midnight to 6:00 am. The administrator can now select whether to charge the defects from the morning segment to the day before or to charge the defects from the night segment to the next morning.
Shifts are shown in a graphical display for each day, allowing the user to see 'at a glance' how the week's schedule is defined.
Areas can now be added to a shift schedule through a simple checkbox interface available from the main schedule definition screen.
A new optional 'Auto fix gaps and overlaps' checkbox sets Inspect to automatically fix any gaps in the schedule that occur as a schedule is being defined, preventing blocks of time from being unassigned to any shift or double-assigned to two different shifts.
The schedule for a day can now easily be copied to other days in the week.
The time is now represented by hh/mm and no longer includes seconds or breaks.
Increased Maximum Units Displayed and New Mask Characters for Data Collect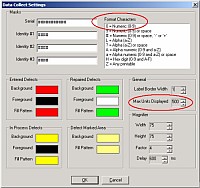 Data Collect can now be configured to display a maximum of 500 units in the Unit List. There are also new mask characters available for defining serial and identity masks. These settings are configured in the Admin module (Configuration > Settings > Data Collect).
Database Schema
When any Inspect application is launched, a check is now performed to verify whether or not the schema version of your database matches what the software is expecting. If it does not match, a warning message is displayed. The program is still allowed to launch even if a mismatch exists.
You can continue to use Inspect without regarding your database schema – however, it is likely that unexpected behaviors will occur if the database is not upgraded. It is recommended that you use the upgrade scripts detailed in the
Connectivity Kit document
(available on the Inspect program CD) to upgrade your database to the correct schema.
The Inspect database schema numbering system has been changed from two decimal separated numbers to three. These numbers indicate major changes, minor updates and build number. For example, schema 4.1.8 indicates the schema for major version 4, revision 1 and build 8.
Oracle Support
Oracle v9.2.6 and Oracle v10.1.3 databases are now supported using Data Direct v5.3 drivers.
Upgrade Scripts Merged
The scripts used to update an existing Inspect database to the latest schema have been combined into fewer scripts, allowing an upgrading user to complete the database upgrade more quickly.
Name of Application Displayed on Title Bar
When logging into Inspect Applications the heading – title bar of the login GUI for each application displays the name of the application.