0000-00-00
New Features in ATS Inspect 6.0
Download in PDF format
Download version comparison
Table of Contents
3D Data Collection
ATS Inspect now allows you to enter defects directly onto 3D CAD models.
The name and ID of each and every component within the model can also be imported into the database which will greatly reduce your setup time.
When you need to add a defect you can smoothly rotate the model, using a mouse or touch-screen, zoom in to the required area and assign the defect.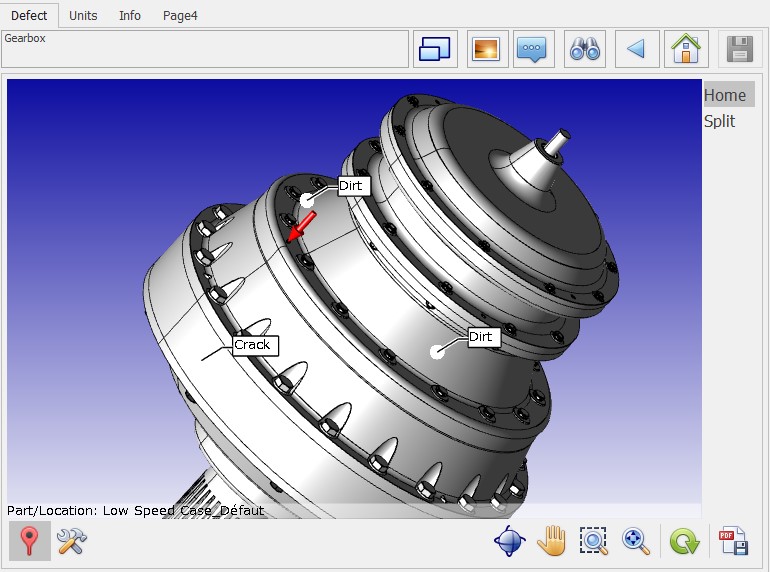 By bookmarking key positions the operator can jump to preset perspectives with cut-throughs and with various components removed so that they can place defects inside the product without the need for multiple views and photos to be taken.
Layered Views
You can now create multi-layer views. This allows the operator to strip away information to see inside the object being inspected.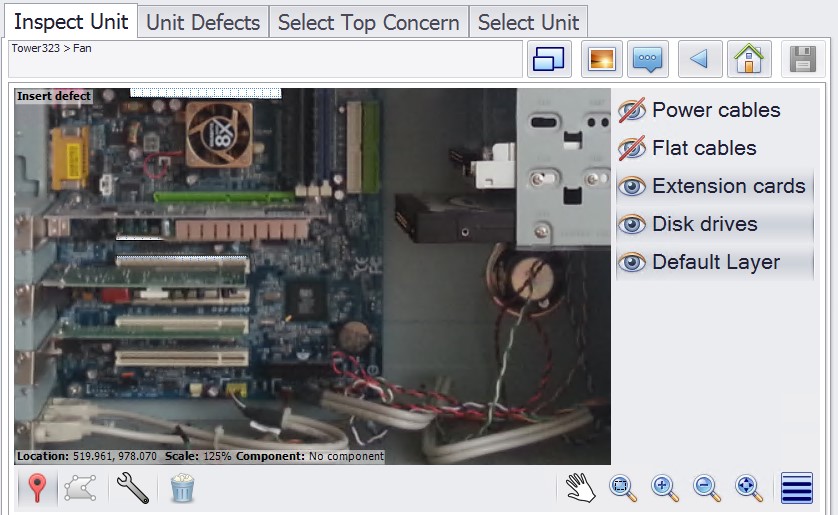 For example, if you were inspecting the interior of a car door you could have layers that represent the door panel, wiring harness behind the door panel and finally the shell of the door. You can add and remove parts of your products on the image itself to get a real-life feel when carrying out inspections.
This layered approach mimics real-world inspections and speeds up data collection which reduces costs and means no defect can remain hidden for long.
Create Part/Concern Associations at Runtime
A new method of relating concerns to components has been introduced that will greatly reduce your configuration time.
When an operator first tries to highlight a defect they'll be presented with all available concerns. Once they've selected the concern and created the defect that concern is associated to the component.
Once enough data is collected an administrator can create the final list of concerns for each component based on the associations that have already been made on the production line. In effect we have created a self-learning configuration ability.
Event Driven Logic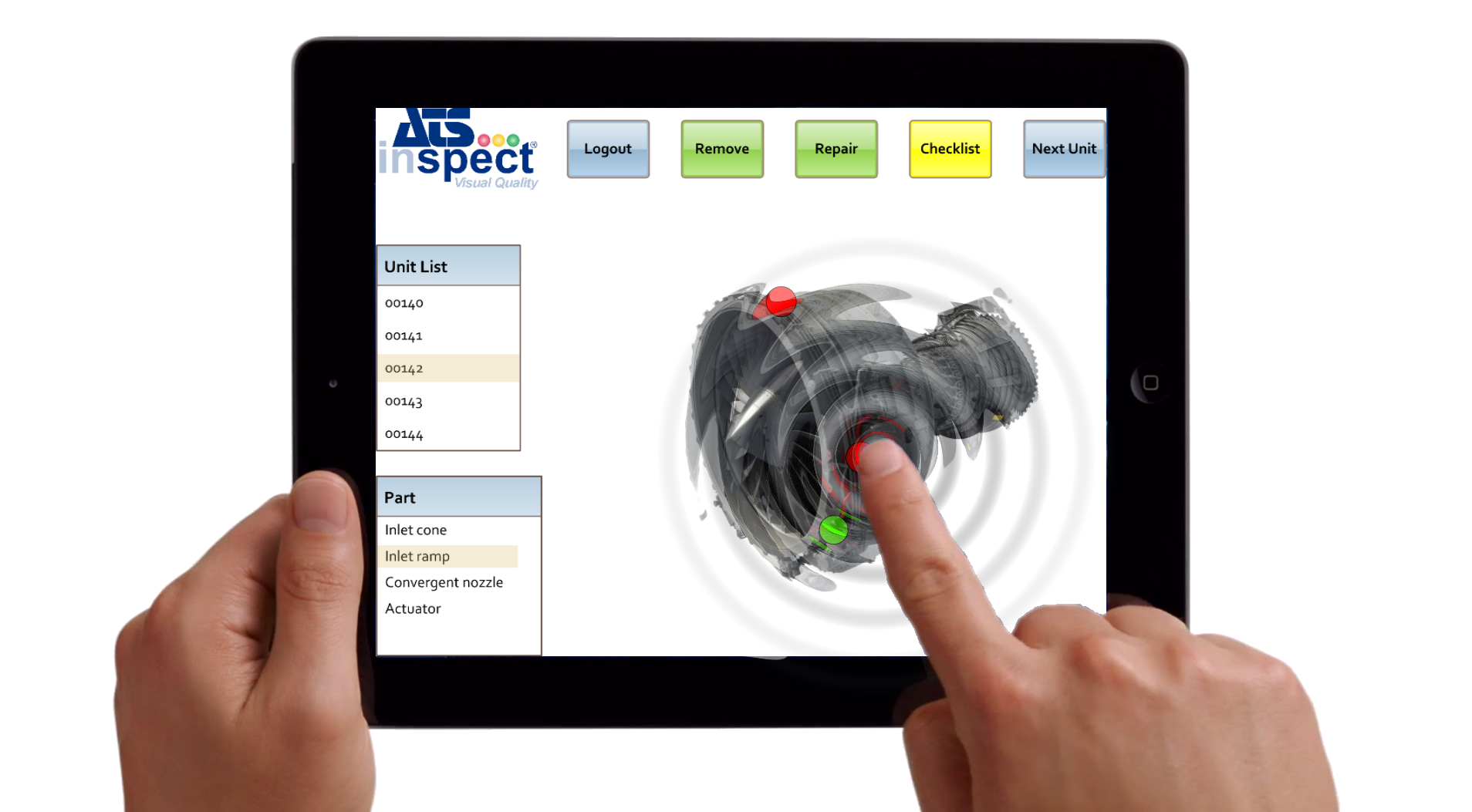 You now have the ability to add event-driven logic to your end-user interfaces giving you all the power you need to customize the application behavior.
Instead of asking ATS for additional functionality when the user presses a button, you can add this functionality yourself. In-house configuration reduces costs and increases customization flexibility as well as reducing the time from concept to use on the plant floor.
Search and Filter Defects
Search and filter capabilities have now been incorporated into the defect entry workflows.
Add Comments to Checklist Answers
To give further information about an answer the operator can add comments.
Image Capture in Checklist
Operators can now take photos or upload images to support answers given in checklists.
Images in Multiple Choice Questions
The answers in multiple choice questions can now include images.
Automatically Resizing to Screen Size
Instead of having to make a different screen for every screen size you can now have a single screen that adjusts to all screen sizes.
Automatically Resizing to Screen Size
Instead of having to make a different screen for every screen size you can now have a single screen that adjusts to all screen sizes.
Full Screen View
Data Collect allows you to expand the view itself to fill the whole screen. This gives you a much larger area to work with.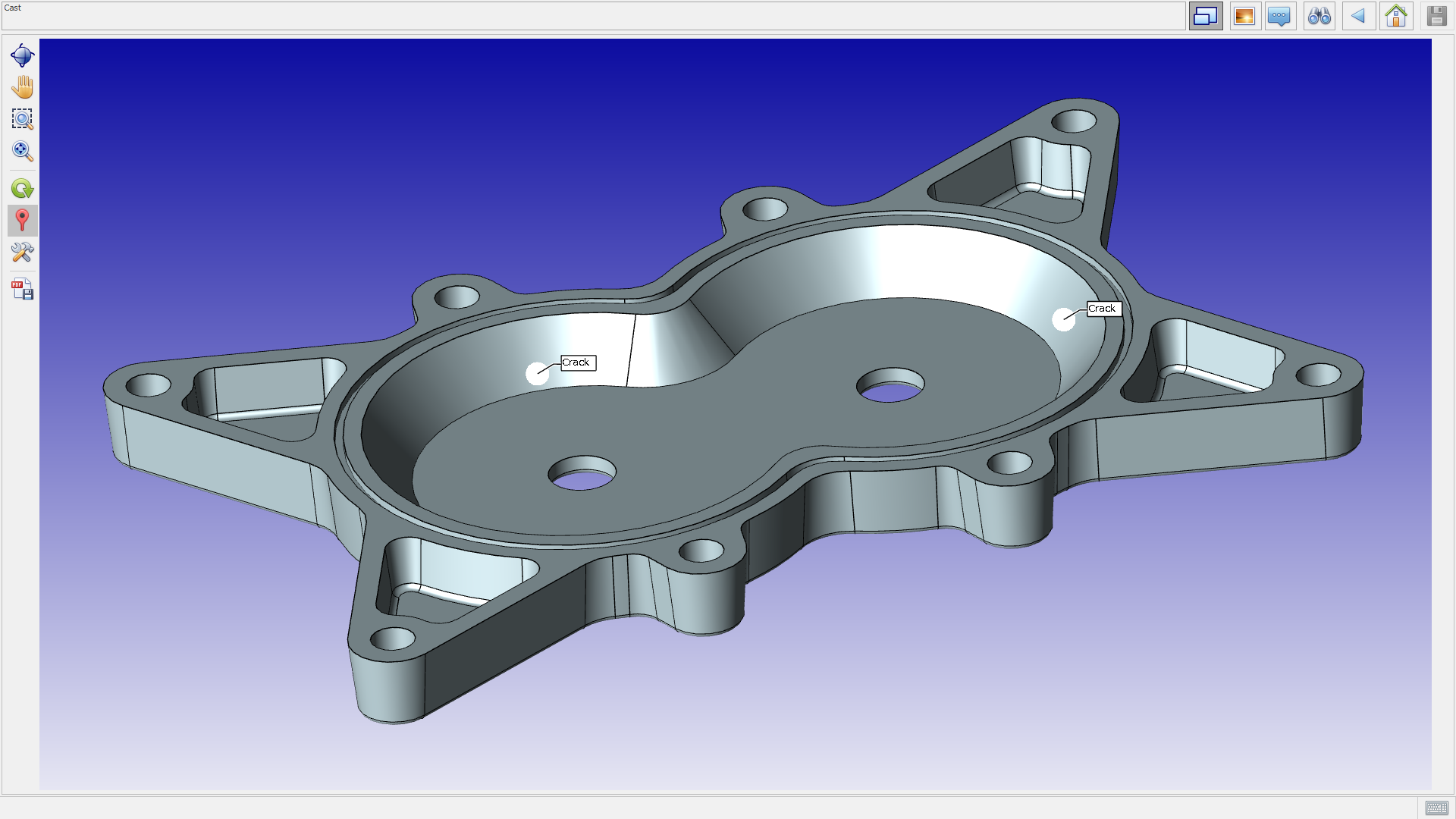 Include Extra Info in Tabs
You can use tabs to provide extra information in the same screen. Presenting everything the operator requires in tabs gives Data Collect a more intuitive feel.

View Reports Directly in DC
Microsoft SSRS reports can also be viewed directly in the Data Collect interface giving operators the latest data while carrying out inspections.
These reports, presented at the point-of-origin, will allow operators to see trends emerging in real time. For example, if a machine is slowly moving out of alignment, causing increasing numbers of defects, then the operator at the machine can see it happening and fix the problem before it gets any worse.
View Context Sensitive Documents
Documents can be shown related to the currently viewed product, characteristic, part, concern or repair. Any document can be made available so long as the client machine has an application that can open it.
View Web Pages in DC
Web pages can be accessed directly in Data Collect for quicker access to reference information stored online or on a local network.
Unlimited Unit Colors
A new Color Types capability has been added that allows an unlimited number of colors to be specified instead of just four.
Improved Touch Support
Many controls now support swiping.
Streamlined Workflows
All of the workflows within Data Collect have been revisited and, wherever possible, they've been streamlined and standardized to make defect entry as quick and intuitive as possible.
The vital step of configuring the inspection images has now been separated out into its own module.
Separating it from the other setup procedures has allowed us to create a clean environment where you can concentrate on creating your multi-layered 2D views and 3D CAD views quickly and effectively.
Improved Thumbnail Creation
Thumbnails can now be created for all images that have been imported at the click of a button. The thumbnails are created and stored in multiple sizes so that Data Collect can import the most appropriate size which has greatly improved image upload speed.
Image Editing
Some basic modifications can be carried out on images imported into View Composer. You are able to adjust the brightness and contrast as well as rotate and flip the image.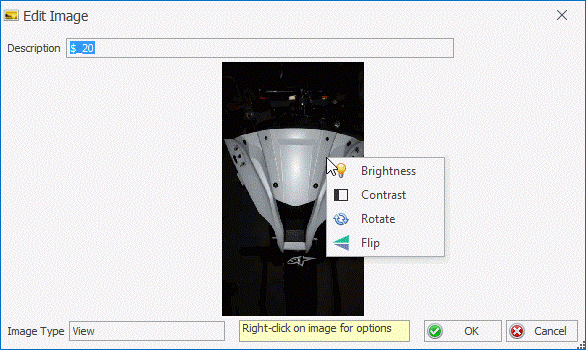 Improved Raster Workflows
The methods used for creating Raster views has been greatly advanced to produce modern tools and workflows that can be easily learnt and put into action.
Form Composer is now used to create user interfaces for all ATS Inspect data collection applications.
Format Painter
The Format Painter allows you to copy the formatting of one control to another.
Smart Tags
Smart Tags are now available on each control you add to the form. Selecting a smart tag gives you access to a drop-down list of the most common properties of the control.
Expert Mode
By switching to expert mode you can view all of the available properties of a control. This gives more advanced users full control over how a user interface looks and runs.
Theme Support
The look of a set of user interfaces can be changed and standardised quickly by applying themes.
WECO Rules
As well as Nelson rules you can now apply Western Electric (WECO) rules giving you more flexibility in your SPC control.
Boolean Characteristics
Variable Data Collect has also had several enhancements. You can now use Boolean characteristics presenting you with an additional method of recording and analysing your variable data.
Setup Information Displayed
Setup information (selected Process, Product, Setup and Labels) can now be displayed in the majority of the forms so that the operator can be sure that they're recording the correct information.

Automatic Return to Setup Screen when Subgroup Batch Completed
When a preset number of subgroups have been completed the operator is automatically returned to the Setup screen. This functionality is optional and can be set for each individual setup.
Date/Time of Variable Datasets
The Date/Time of variable datasets is now stored in UTC in the database and is converted to the correct time zone on the client machine so that the operator sees the correct time.
Increased Subgroup Size
The number of values that can be recorded for each characteristic in a single subgroup has been increased to 999. This number is set when assigning a characteristic to a setup.
Message and Severity Displayed when Rule Broken
When adding Characteristics to a Setup it's possible to specify the severity of each Nelson rule being broken. The severity will be displayed by the background colour and text colour in the Violation Message control in the Violation popup.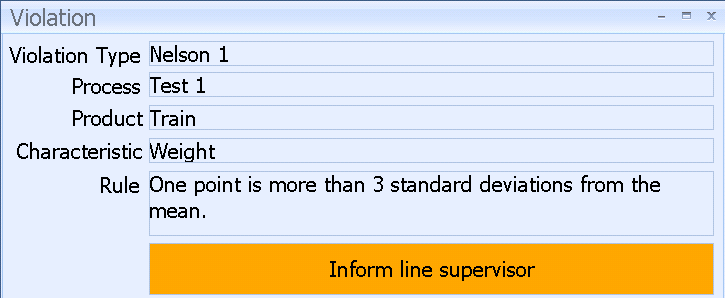 Rename Rules and Chart Types
Control rules and chart types can now be renamed.
All Admin Functionality Now Included in Cockpit
The Admin application has been removed and all of its functionality can now be found in Cockpit. This is also true for all functionality that was previously found in the Admin tab of Classic Reporting which has also been removed.
Import Data Using Spreadsheet
Many items, such as parts and concerns, can be imported from an Excel spreadsheet directly into the database. This is much quicker than specifying each item individually.
Import Multiple Images and Documents
It is possible to import multiple images and documents in one go instead of having to upload each one individually.
Product Groups
Product groups are now available in Variable Data Collect. Product groups are used in reporting to group product data. For example, if your facility produces washing machines and dryers, the quality data can be reported separately for each product. However, by creating a product group containing both, reports can be generated for the two items together.
Assign Multiple Products to a Single Variable Setup
Multiple products can be assigned to a single setup.
Assign Processes to variable Setups
Rather than being completely independent, processes now need to be associated to a setup.
Assign Labels to Variable Subgroups
Labels can now be assigned to individual subgroups as well as to datasets.
Sync Code to Description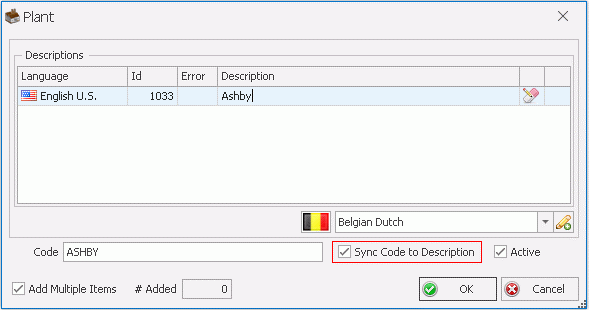 When adding a new item that requires both a Description and a Code you can enable the Sync Code to Description check box.This will automatically populate the Code field with whatever you enter in the Description field.
Hints for Missing Data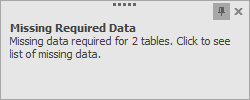 The configuration module, Cockpit, will now tell you if you are missing data required to create the item you've selected. When you select an item to create a warning will open in the bottom-right corner. You can then click on it to see what needs to be created before you can add the selected item.
The entire collection of ATS Inspect reports are now available through ATS Advanced Reporting Services (ARS).
Using ATS ARS you'll be able to run multiple reports simultaneously, save multiple report configurations, export to many different formats, schedule automatic report generation and much more.

Sometimes the requirements of our customers move beyond the capabilities of the existing software.
When this happens we have to look to different technologies that can take us where we need to go. For this reason we have replaced three of our existing applications:
Admin > Cockpit
Layout Manager > Form Composer
Classic Reporting > ATS ARS
All of our applications are now built on the .NET platform and web services. This provides a more robust and scalable environment.
Work on Multiple Monitors
In the configuration modules (Cockpit, Form Composer, View Composer) it's possible to work across multiple monitors. The seperate windows and panels can be dragged outside of the application increasing your working area.
Improved Event Service
Creating Events has been simplified by allowing you to drag and drop data tags into the script. There is also only one service used now instead of the multiple services used in previous versions.