2012-12-12
New Features in ATS Inspect 5.5
Download in PDF format
Support for Languages with Double Byte Characters
It is now possible to add items to the database using languages with double-byte characters. This means that the data collection user interface can now be displayed in languages such as Chinese, Japanese and Korean.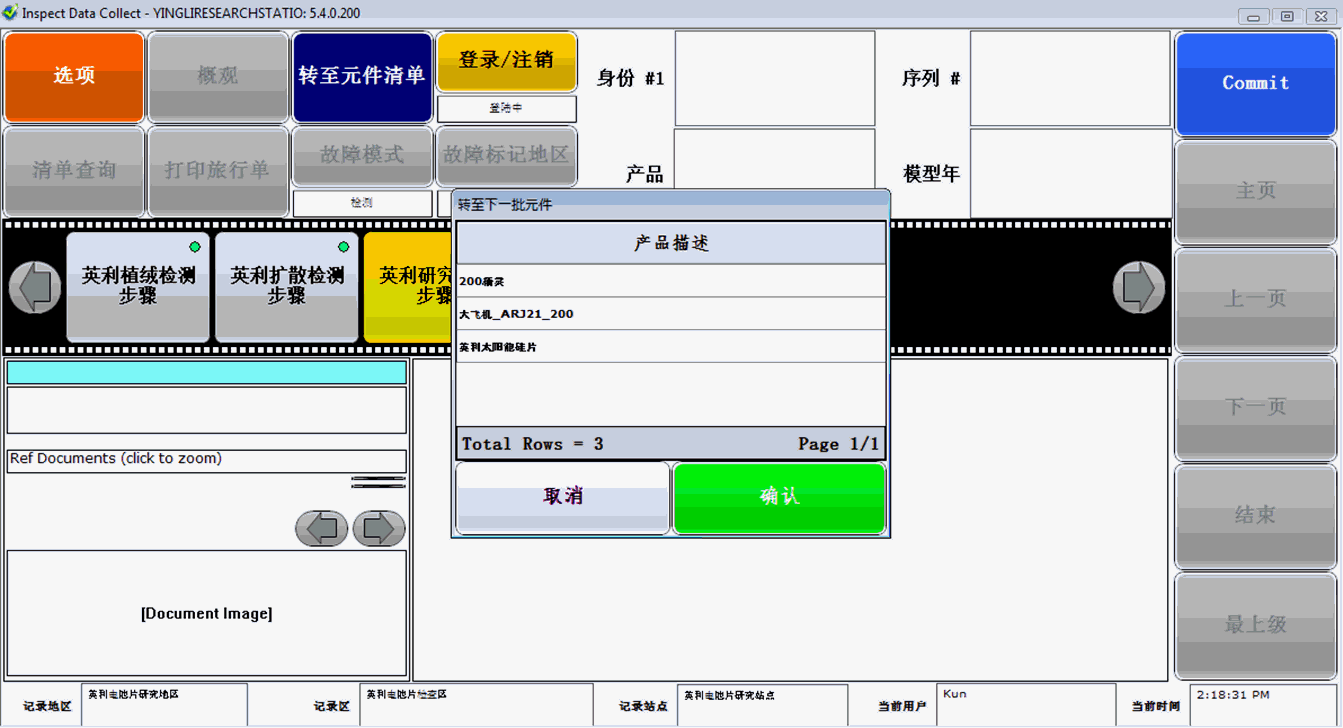 An existing database can be updated to support double-byte characters using the new Data Transfer Wizard application.
Oracle Databases
Our customers running Oracle databases will now enjoy all of the latest functionality as our MS SQL customers.
Single Login Method
Login for all applications requiring a standard login has been simplified. They will now only accept an Inspect username and password (an SQL and Windows login were previously available).
Multiple Services
It is now possible to run multiple instances of some services on the application server. Each service can then connect to a different database. This can be done with the following services:
ATS Inspect WCF Checklist Service
ATS Inspect WCF Communication Service
ATS Inspect WCF Data Service
ATS Inspect WCF Traffic Service
ATS Inspect WCF Travel Service
The graphic below demonstrates how the connections could work: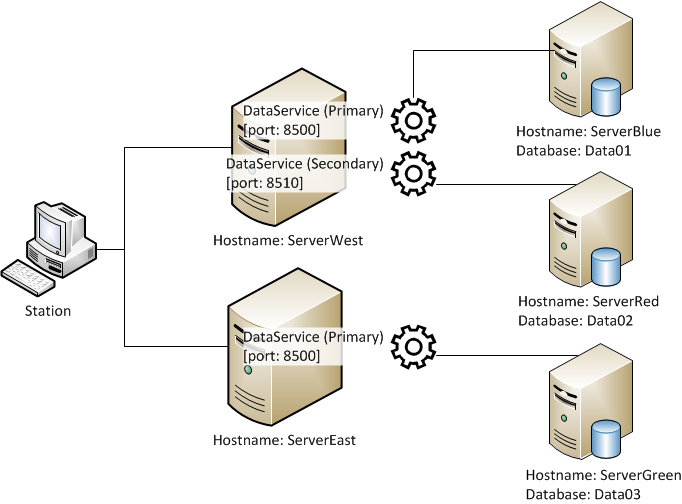 Replaceable Parameter for Step
A replaceable parameter has been added to identify the current step when using stored procedures. [current_step_id]
chk_generation_queue Table Updated
The sequence column in the chk_generation_queue table was previously an identity column that was updated with an automatically assigned number. For Oracle compatibility it must now be filled with the next available number. This will affect existing custom_create_new_unit scripts that will need to be updated.
Functionality Moved from Admin to Cockpit
The following functionality has been moved from Admin to Cockpit:
Part/View/Checklist Categories
Checklists
Products
Product Groups
Parts
Locations
Model Years
Build Groups
Plants
Concerns
Details
Repairs
Reference Documents
The method for adding reference documents has been modified so that documents can be associated to parts, concerns and repairs in one screen.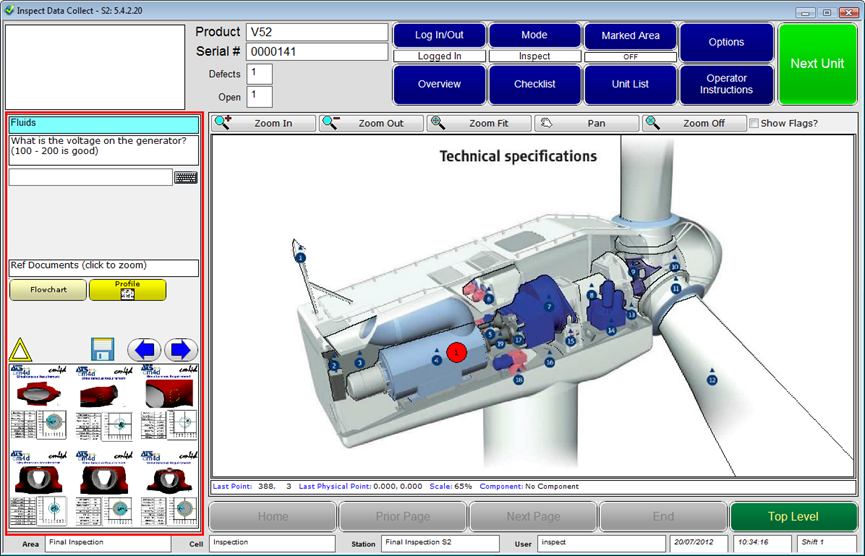 Custom Event Scripting in VDC
Custom event scripting allows you to add custom functionality to the forms. This functionality could be used at any point such as when opening a form, clicking a button or entering a value.
It will allow you to add whatever functionality you need. For example:
Show extra information in a popup when clicking a button.
Send an email whenever someone logs in.
Launch and interact with other applications while entering data.
Call and utilise data from other databases.
Mobile Vocabulary
Mobile apps are now multi-lingual and have their own set of vocabulary.
Mobile Settings
The following settings are now available in Mobile Checklist and Mobile Repair:
Show Close Button: Display a close button in the application (1=yes, 0=no).
Allow User Code Login: Allows user to toggle between login screen with username/password and one with user code only. Using the code option allows a user to quickly login via a single step scan.
Mobile Checklist also contains the following setting:
Default Identity Type: Sets the default identity type on the unit screen.
Search Checklist Questions
The Checklist Questions list can now be filtered by entering text in a Search field. The list will return questions that match the text in either the Description or Code column.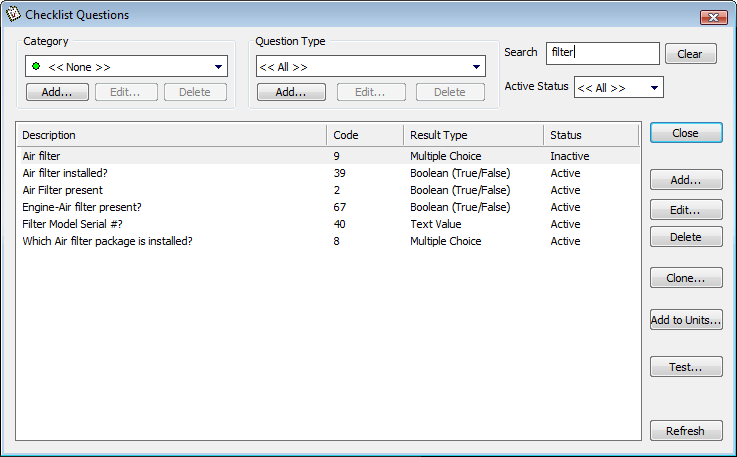 Filter Checklist Questions
The questions displayed to an operator can now be filtered by adjusting the properties of the station. The available options are:
Show all questions
Show unanswered questions
Show wrongly answered questions
Checklist Control Document
The maximum size of the document displayed in the Checklist control of the Main page can now be set to take up to 80% of the control. The reference document component can also be disabled altogether.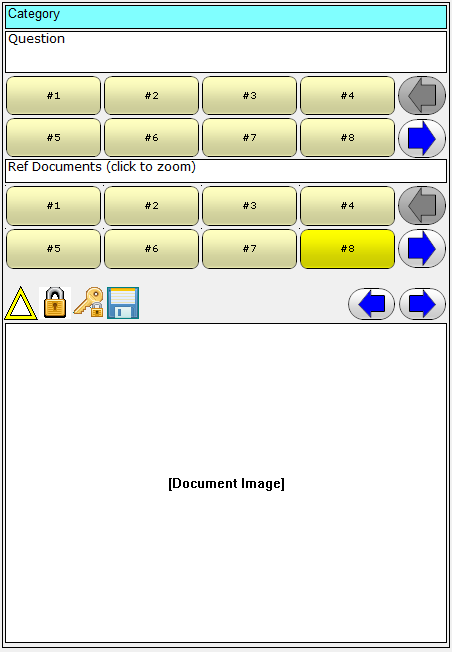 View Checklist Answer History
The history of the answers given to a question on a particular unit can be viewed in the Single Unit History report.
Reset Questions after Repairs
It is possible for checklist questions to be reset automatically when a repair is carried out. This means that when a specified repair is carried out the answers to associated checklist questions are cleared and the operator must check those items again.
View Questions Associated to Static Answers
The checklist questions that are using specific static answers can now be viewed in the Static Answers dialog box in Admin.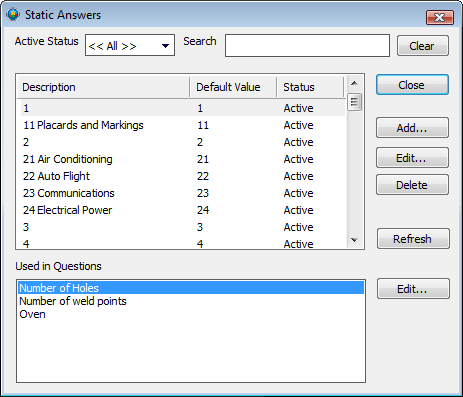 Checklist Service Associated to Station
Checklist Service is now associated directly to each Data Collect, Mobile Repair and Mobile Checklist station. It is associated in the Properties tab of the station settings in Admin.
Checklist Service Split in Two
Checklist Service has now been split into two with the following tasks:
ATS Inspect Checklist Generation Service: Handles requests to create checklists.
ATS Inspect WCF Checklist Service: Handles requests to perform tasks related to checklist questions.
Tracking Point Groups in Triggers
Tracking Point groups can now be selected, as well as individual tracking points, when creating
Quantity per Time
and
Quantity per Unit
triggers. Units that go by any of the tracking points in the group and satisfy the other variables will cause the trigger to go off and a notification to be sent.
More Descriptive Errors in Form Composer
Error messages in Form Composer now contain more information. These can be viewed in the following ways:
View the errors in the Error List panel.
Save a form - any errors (eg. missing components) will be listed.
Hover over the Usable column when opening a form to see why a form isn't usable.