0000-00-00
Beverage Producer Eliminates Paper Check Sheets with Quality Inspection Software
'We are using a single database and all reports are available at the touch of a button from any computer with an internet browser.'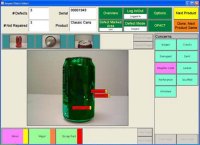 One of the world's largest soft drink producers manufactures its own beverage cans at multiple locations worldwide. After cans are manufactured, they travel to the beverage plant for filling, and when filling is complete, cans are randomly inspected for multiple quality and durability characteristics. Inspectors were using cumbersome paper check sheets for this process, and the data on the sheets then had to be keyboarded into multiple databases.
The company started a pilot program using ATS Inspect Software. Digital photographs of multiple views of a can were imported to Inspect to be used by inspectors to mark defects on critical areas of inspected cans. Critical parameters include such defects as faulty lips and seams, leaks, bulges, illegible barcodes, dents and cracks. Inspectors now mark defects on the Inspect screen with the entered information immediately recorded in the database. Defects are assigned levels of minor, major or scrap. Concern spectrum reports are generated for analysis, with defects assigned both a numerical and color ranking ranging from green through yellow through red.
Manual keyboarding of data from paper check sheets has been eliminated. There is no longer a risk of check sheets being illegible, damaged or lost. Inspection time has decreased by 40% and information is immediately available to quality management to track critical defects and institute remedial measures. In addition, database information is also used for compliance tracking.
The CAD files can be used to create components using closed non-circular vector objects within the file. This simplifies the addition of components when there are many objects in the file and removes some of the need for manual drawing of components on the views.