0000-00-00
Online Part Status Eliminates Incorrect Builds
'We are generating electronic checklists to help determine if a particular VIN was assembled correctly.'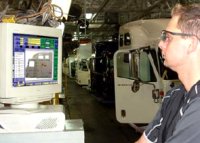 An international heavy truck manufacturer needed to track customer-requested options to be installed on otherwise identical models of trucks. Because these options were tracked with paper route sheets, which could be easily lost or destroyed, assembly processes couldn't be determined and trucks awaiting optional parts had to be moved off-line to a staging area.
When parts arrived, assemblers had to walk from truck to truck in the staging area to match optional parts to truck chassis. In addition, inspection reports and warranty data were being documented by paper and pencil and keyed into separate databases for analysis and reporting.
ATS Inspect - Quality Inspection Software provided the solution. Because Inspect uses a single database to generate reports from an internet browser, assemblers now can set the status for each part number online. External systems can query the Inspect database to determine the exact status of a particular vehicle, including missing parts, operations and rework times. Assemblers and quality managers can send e-mails and text messages to the material handling team for immediate action.
Inspect's electronic checklists help to determine if a particular VIN was assembled correctly by providing a series of questions for the inspector. Inspect compares these answers to the options for a particular vehicle and determines if the correct options were installed. The manufacturer has now experienced 18 consecutive months without a single incorrect build.