0000-00-00
Manufacturing Intelligence and Visual Inspection Systems to improve Productivity and Quality
Toyota Car Manufacturing utilizes the famous Toyota Production System and the Toyota Way philosophy. Toyota is recognized as the world leader in applying Lean Manufacturing techniques and regularly tops the list of independently ranked quality ratings for their passenger cars. As part of Toyota's Kaizen or Continuous Improvement process ATS has implemented and supports a number of MES applications at Toyota. This briefing refers to two of the solutions already implemented.
Our Manufacturing Intelligence solutions collect data directly from various departments within the plants including engine assembly, the paint shop, assembly and utilities. The data is collected automatically, primarily via OPC protocols and stored in an SQL database. All the data is time stamped with unique identifiers making reporting (turning data into information) effective for a wide variety of users. Information is presented in a web browser as Key Performance Indicators such as OEE, SPC, value and quality counts and used to continually improve the processes. Andon boards (large displays) enable Toyota to involve operators in measuring performance and underpinning the empowerment of operators.
• Quality Visual Inspection
• Inspectors use touch screen
• Defect area or point marked
• Reason code entered
• Reports on defects
• Visual reports
• Information reports
• Rework routes launched
• Web browser technology
ATS designed and implemented the systems passing all of Toyota IT's stringent quality gates. The systems are production critical and ATS's 24/7 Service Level Agreement provides Toyota with maximum system security and reliability.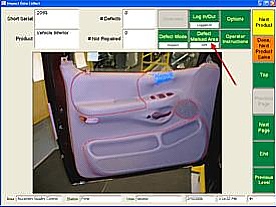 Car door